Clary Icon OneScreen 84" 4K UHD Touch Screen Canvas (10 Touch Points, Intel i7 Processor)
Actual Stock Can Be Confirmed After Placing the Order.
Canvas is the industry's best-in-class workhorse of top-quality interactive touch screens.
Simple smart boards with smart software, for your smart people.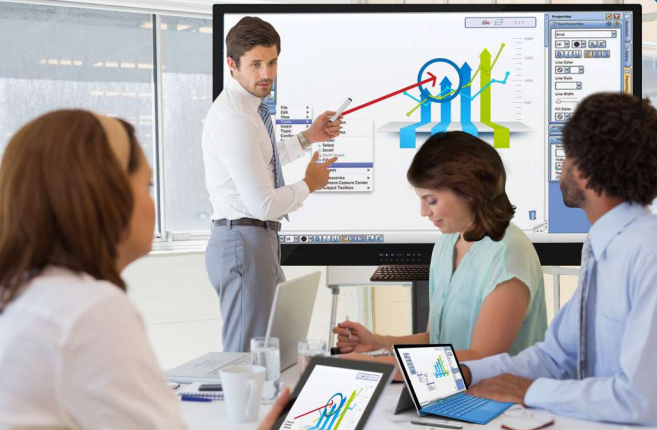 Plug and Play Solution. Walk up and work simplicity right out of the box. Use it as a stand alone unit or include it on the network like any other PC.
Intuitive Software. Easy annotation and screen share software makes Canvas a digital brainstorm space that captures, records, and shares everyone's ideas, plus view and control from any where on any browser.
Best-in-Class Technology. 4K UHD, LED touchscreen with Intel i7 Processor / Intel i5 Processor, 8GB RAM, 120GB SSD, 1 TB HDD, Windows 10 Pro.
Conference
Share information with colleagues around the world in real time with the conferencing feature. With a shared whiteboard space, everyone can see, write notes and make changes easily.
Annotate
Whether working with files inside or outside of the StarBoard Software, annotating over documents has never been easier. Use the multitude of interactive tools to seamlessly markup digital content.
Custom Toolbar
Expand or collapse the toolbar and adjust its height and orientation based on your preference. Easily add external files and apps to the toolbar, with the option to save it for future use.
Screen Share
Open any browser and securely swap, view and control multiple screens with up to 40 remote users.
Search Engines
Add up to 4 search engines to the software to easily access frequently used websites with search capabilities. Explore topics by selecting a word to seamlessly connect to any search engine.
Import Files
Import a variety of documents, including Microsoft Office, PDF, and multi-media files, enabling instant markup. Annotate over motion video to add a new dimension to your digital lectures and presentations.
OneScreen Annotate Software
Interactive whiteboard and annotation software, share whiteboard space with up to 50 users, handwriting and shape recognition, built-in Google image access, drag-and-drop images, save and record work sessions in multiple formats, personalized toolbars and more.
OneScreen Swap Software
Browser-based screen share, view and control. Securely share with up to 40 remote users simultaneously, take control of your PC on any device (Windows, Mac, Linux, Chromebook, iOS, Android). All remote sessions are TLS and 256-bit encrypted, supports all browsers. No download required.
Warranty
3 Years Warranty on Unit - First Year Hardware Replacement on Panel Failure.
More Information

| | |
| --- | --- |
| Product Name | Clary Icon OneScreen 84" 4K UHD Touch Screen Canvas (10 Touch Points, Intel i7 Processor) |
| Weight | 150.14 |
| Built-In Speakers | No |
| Manufacturer | Clary Icon |
| Color | Black |
Compare Products
You have no items to compare.
We can't find products matching the selection.