Hyundai D46DFB 46" Videowall Signage Display
Actual Stock Can Be Confirmed After Placing the Order.
The Hyundai D46DFB Videowall display with a very thin frame is a must for video walls due to the short bridge width of 5.7mm.Even in the digital signage area, the Hyundai D46DFB is indispensable.
Special Out-Of-Home LCD Panel
By using commercial grade LCD panels for Out-Of-Home applications, the HYUNDAI Digital Signage display can provide a higher brightness and contrast than standard LCD TV panels.
LED Backlight
HYUNDAI's public displays with LED backlight bring the advantage of an up to 40% lower power consumption, compared to displays with CCFL backlight.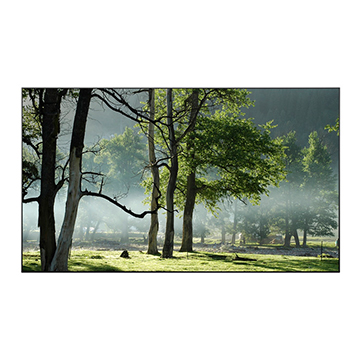 Super Narrow Bezel
Combined with the cutting edge function, super narrow bezel design ensures a maximum screen area with unifi ed images and a mimimum of viewable interruptions.
Easy operating OSD menu, Remote control
In order to setup a multi display wall, the single units are linked by a daisy chain connection over DVI. The configuration of each display can be easily set-up over the on-screen menu or the RS232C interface.
Dimensions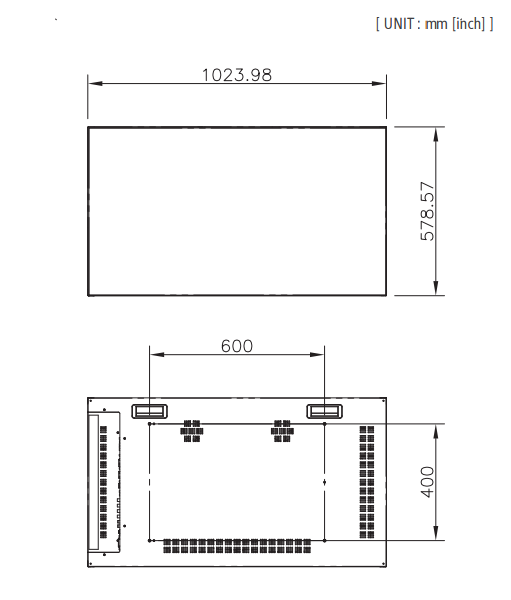 By using professional industrial panels, the indoor public displays from HYUNDAI IT form a reliable platform for the display of digital signage and advertising content. Due to the ultra-narrow housing frame, they are ideal for building video walls.
Extremely narrow housing frames
Due to its Super Narrow Bezel design, the width of the bridge is only 5.5 mm (display on display) and thus enables the largest possible display area with the smallest possible interruption.
Integrated video calling function
The integrated video wall function allows the quick and easy configuration of multi-display installations. The signal distribution is performed by daisy-chain and requires no additional equipment.
LED Backlight
The LED backlight ensures a homogeneous illumination of the panel and reduces the power consumption by up to 40% (compared to conventional CCFL backlights).
Portrait / Landscape orientation
With unchanged image quality, the display can be installed both vertically and horizontally.
VESA standard
The VESA standard 600 x 400 guarantees compatibility with professional wall mounting systems.
Remote maintenance via RS232C
The most important functions of the display can be remotely controlled via the RS232C service interface and parameters of the operating state can be read out.
More Information

| | |
| --- | --- |
| Product Name | Hyundai D46DFB 46" Videowall Signage Display |
| Weight | 21.50 |
| Screen Size | 46" |
| Resolution | 1920x1080 (Full HD) |
| Brightness | 500nits |
| Built-In Speakers | Yes |
| Aspect Ratio | 16:9 |
| Bezel Width | 5.7mm |
| Contrast Ratio | 3500:1 |
| Dimensions | 40.31 x 22.78 x 4.64 |
| Manufacturer | Hyundai |
| Color | Black |
Compare Products
You have no items to compare.
We can't find products matching the selection.